Compact and Lightweight Design
The single-phase electric Stiebel Eltron instantaneous water heater offers convenience in a small and compact package. From the cold water from the piping system, they quickly and efficiently deliver instant hot water shower on the heater shower-head.
DHCE 6/50 and DHCE 8/50
The single-phase instantaneous water heater features an electronically controlled heating system that limits the water temperatures about 50 degrees Celsius. The Stiebel Eltron water heaters are ideal for low flow-rate installations, which remain a standard feature in most households.
The electric water heater starts heating water even at a slow flow rate of up to 1.5 litres per minute. The water heater, in addition, comes in a compact and lightweight design that can be fitted in virtually any piping and even in limited spaces at the showerhead end.
Modern Design
The Stiebel Eltron instantaneous single-phase water heaters feature several advantages over other electrical heaters as they come with:
• Feature a modern carbon fibre design finish and aesthetically pleasing.
• Has an electronically controlled water heater to give precise water temperatures.
• Comes with three temperatures selects that provide different showering preferences.
• The heating element is tubular in shape to provide for a large surface area for a quick water heating process.
• The relevant authorities also approved the product as safe for use. It has the watermark, Lic. No. WMKA21273, AS3498.
Installation
The compact water heating system is easy and simple to install. It merely requires one to have the correct pipe fittings and some knowledge of electrical connections. The single-phase water enjoys an edge in comparison to the competitors as it:
• It can deliver water at a temperature of 50 degrees Celsius, which is a regulation that needs to be according to the AS3498 regulations.
• There is no safe tray or drainage needed before use, the heating element only works when there is a water flow of water into the heater.
• Due to its compact design, it saves on space. It also helps improve your bathroom décor from its stylish and futurist design and looks.
Improved Water and Energy Saving
The DHCE instant water heater uses an electronically controlled system that maintains considerable water and energy saving abilities in comparison to the old hydraulically controlled instant water heaters. The control system switches on the heater element as soon as there is water flow through the system.
Its compact design does not only help in saving spaces but has been designed and engineered to hold as little water as possible. As soon as the water gets heated up, it gets out on the shower end. This has been possible due to the tubular heating element design that provides a large heating surface area within the most reasonable distance possible.
Therefore, no energy is lost as water passes through tubular heating elements. It would be counter-productive as excess water left in the system once you are done showering would be hot and unused. In addition, more heat would be required to heat the excess water, which would also be ultimately lost in the gradual heating process.
Two Sizes to Choose From
The instant water heaters are available in two sizes depending on the electrical consumption. We have the following:
• DHCE 6/50 that has a power rating of 7.1kW, 30 Amps
• DHCE 8/50 that has a power rating of 9.5kW, 40 Amps
Both require a single phase electrical supply at 240 volts.
Warranty
The product comes with a 5-year warranty from the manufacturer. It is also possible to get any repair parts and services from a local dealer. However, the warranty is limited as there some terms and conditions to be followed before a claim is. More information can be found on their warranty policy document or card.
DHCE 8/50The DHCE 8/50 is a bigger instant water heater that is capable of delivering hot water instantly at a temperature of 6 degrees Celsius.
It also features an innovative electronically controlled heating element that is ideal for use in low water flow situations. It has been tested to work excellently well at a flow rate of about 1.5 litres per minute.
Design
The DHCE 8/50 is made of high-quality plastic and features the following advantages over the competition.
• Features an electronic heating element control.
• Comes with temperature selects to provide you options to select from.
• Maintains a tubular heating element that is efficient and improves on the heating surface area.
• It has been passed all the test and regulations and is approved under the Lic. No. WMKA1273, AS3498 watermark.
Installation
• Just like its smaller version, it comes in a small and compact size that allows for installation in limited spaces thus saving space in the process.
• It has a better and bigger water-heating element that can deliver hot water at up to 60 degrees Celsius.
• Its compact size coupled with the electronic heating element control gets rid of the need to have a safe tray or drainage. However, it is critical to check with your local regulations for any warnings or advice.
Efficiency
The DHCE 8/50 features some innovative upgrades in comparison to the old water heating technology that makes it more efficient and in turn saving more power and water.
• Has a tubular heating element that provides an increased surface area on which heating occurs. Thus being capable to attain such high temperatures in a record short water flow distances and time too.
• A smaller and compact size merely allows enough water to pass through. Thus no excess water flow that may reduce the heating efficiency of the heating element in the end.
• Has an electronically controlled heating element, unlike the former hydraulic systems that were quite slow. With the modern control, the system switches on the heating element, as soon there is water flow through the heating element.
Size
• The DHCE 8/50 has a power rating of 9.5kW, 40 Amps and runs on a single-phase electrical supply at 240 volts.
Warranty
The water heater has a five-year limited warranty on parts and labour that is subject to the terms and conditions as outlined in their warrant policy document.
Therefore, if you need convenience on the go in your bathroom, the single-phase electric Stiebel Eltron water heaters are the solution for you. It is clearly the best option available with the unique advantages of the competition. These are an easy installation, energy saving, and stylish design. Be among the many Australian folks that enjoy the premium services at no extra cost in their homes.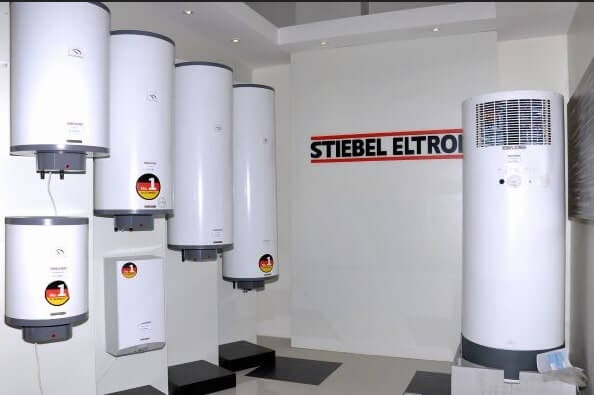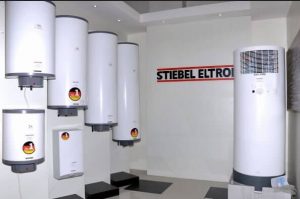 With more than 25 years in the industry, Anytime Hot Water is an award-winning provider of hot water system services in Sydney and the surrounding areas. We are a fully licensed and certified hot water plumbing company, so you can count on us to provide a high-quality service which exceeds industry standards.
When it comes to hot water, we understand that most jobs require fairly urgent attention. We offer the fastest response times in the industry – with our same day service. Providing you complete peace of mind that your problem will be addressed promptly, 24/7.
Specialising in hot water systems, our highly trained, experienced staff are well-equipped to handle just about any type of system. Whether it is electric, gas, solar or heat pumps. Our services include both system repairs and replacements, so we can assist with virtually any issue you may be experiencing. In addition, we stock parts for all the leading brands, meaning most issues can be fixed on the spot hassle-free.
Do you want a Steibel Eltron System installed in your premise? Contact Anytime Hot Water. We have the capacity for the job to be done. We are a leading Australian trusted provider of hot water systems. Call us today 1800 633 920 for your assistance!