When your hot water system suddenly breaks the first thing people often do, is jump onto Google and type something like 'hot water systems near me' or 'hot water plumber near me'…..in an effort to get the hot water storage tank replaced FAST!
Some people imagine that one water system as just as good as any other and that they all end up doing the same thing anyway.
While it is true that any HWS (hot water system) will make your showers nice and hot, they way they do so as well as how reliably they do so can be quite different.
The first step to take in making a more informed decision is to familiarise yourself with the different types of systems that are available.
The following guide will review the different types of systems available in Australia, compare their running costs, and talk about which brands have been rated best in terms of ease of use, reliability, and value for money.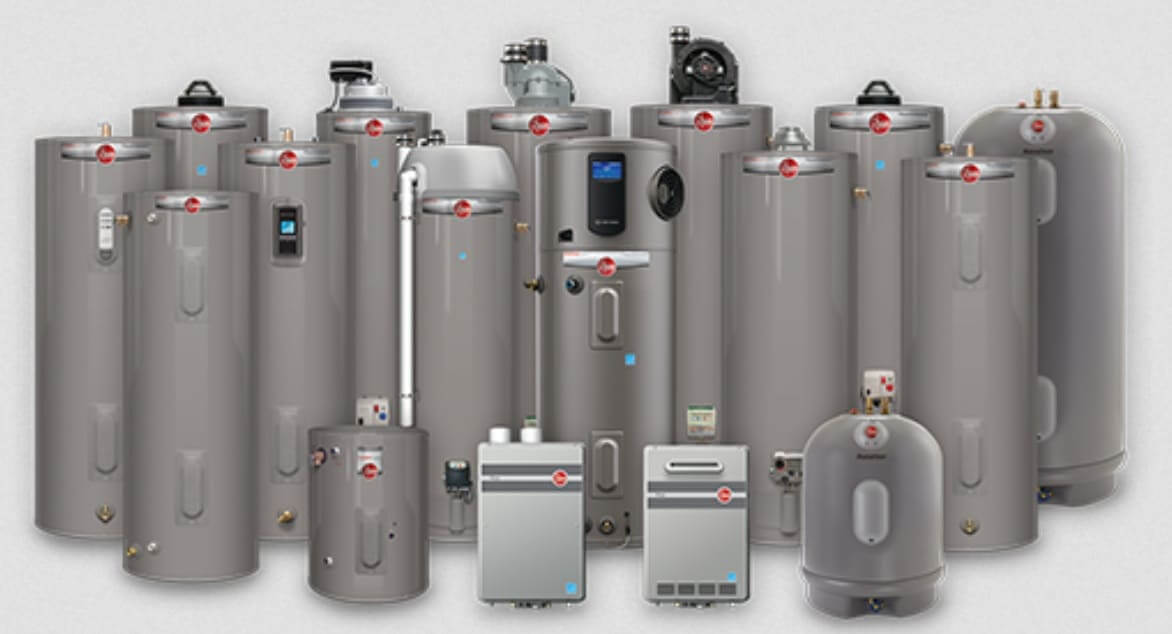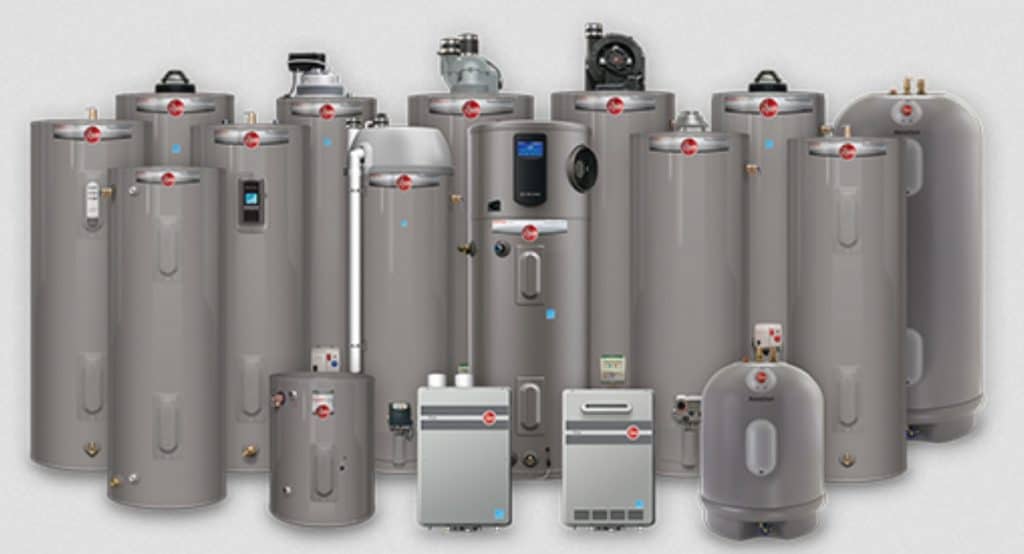 How much is a new hot water system going to cost?
The Best Hot Water System Brands
Before we get into price … lets start with what are the leading hot water system brands in Australia.
Australian households generally agree that the top five brands for hot water heating systems in terms of customer satisfaction were as follows:
Although this is certainly an important consideration, it is not necessarily a good idea to jump straight at the first Rheem system that you see without any ado.
There are a number of other things to consider when choosing your new hot water heater unit, so let's get into the nitty gritty of the different types of machines available in Australia along with the advantages and disadvantages of each.
What Is The Best Type Of Hot Water Heater?
The following guide will give you a rundown of the best hot water heating systems ; namely, electricity, gas, solar, or heat pump.
Please also keep in mind that within each of these categories there are also two different types of hot water systems: storage systems, or continuous flow systems.
Storage hot water systems have a tank in which a large amount of hot water is heated at once and then slowly used throughout the day.
Continuous flow systems don't rely on a tank but instead heat a small amount of water at a time as you need it.
Are Electric Hot Water Heaters Cheap To Run?
These heaters have an element either inside of the tank, or coiled inside the pipe for continuous flow systems, which is heated by electricity. As these are the most common and widely produced machines they tend to have the lowest costs to buy and install upfront.
The disadvantage to these systems however is that they tend to be the most expensive to run once they are set up, especially when relying on peak-period energy (as is the case with continuous flow systems).
Electricity also has high greenhouse gas emissions when compared to other heating methods. The initial cost will be between $200 and $2000.
Are Gas Water Heaters Cheap To Run?
Gas heaters use a burner to heat the water in your tank, or which ignites only when you need hot water with continuous flow systems.
The advantages of gas are that it is much friendlier to the environment than electric power, and in general tends to have lower rates than electricity meaning you will save money on running costs in the long run.
The main disadvantage of gas is that it is simply not available to everyone as you need to be located near a line.
Another thing to consider is that gas systems need to be installed outside, or have an exhaust vent if installed inside. The initial cost will be between $800 and $2000.
Are Solar Water Heaters Effective?
These systems generate heat from the sun by using solar panels installed on your roof. For periods of the year with less sunlight, these systems often have an electric or gas powered booster as a backup.
The main advantages of solar power is that they are able to reduce a home's energy consumption by as much 90%, and they are by far the most environmentally friendly option.
The major disadvantage is that these systems have a much higher up front cost to buy and install (although it is possible that you are eligible for government rebates to help offset the cost). The initial costs will be between $2000 and $7000.
Are Heat Pump Water Heaters Cheap To Run?
These systems are basically the opposite of a refrigerator: instead of pumping out hot air to keep the fridge cool, it pumps hot air in to keep your water warm using a fan.
The main advantage of these heating systems is that they are very energy-efficient and cheap to run; although they do rely on electricity, they typically use about a third of what a traditional electric element heater would use.
The main disadvantage of heat pump heaters is that they only work well in warm climates.
Most will include an electric booster for colder days, but if you are going to be relying on the backup electric element for significant periods throughout the year, then it may not be worth the extra investment for the heat pump. The initial costs will be between $2500 and $7000.
What Is The Best Hot Water System To Use In A Family Home?
Given ideal conditions of at least a moderate amount of sunlight along with being located near a gas line, then the most cost-effective system would be a solar system with gas boosters for backup.
However if your home doesn't get much direct sunlight then the next best thing would probably be a continuous flow system that runs on gas.
Given your particular situation, however, the cheapest system to run could be something different, so it is always best to consult an expert who can give you their professional opinion after reviewing your household situation and needs.
Overview Of The Top 5 Brands
Now that you are more familiar with the different varieties of water heating systems available, let's go back and take a closer look at the top 5 brands based on our customer satisfaction survey to see what kinds of systems they offer.
Rheem hot water systems
Rheem makes basically every kind of heating system: electric, gas, solar, heat pump, and also gas continuous flow systems.
It also has a number of different systems designed to suit different needs, like compact systems for people with a tight space, or steel systems for extra durability, or even extra-large systems.
Anything other than solar will cost you in between $500 and $1500, whereas solar is going to look more like $1200-$3000.
Rinnai hot water systems
Rinnai has to different lines of continuous flow gas heaters (Hotflo and Infinity), along with a wide range of electric, gas, heat pump, and even solar systems.
They also make a number of different accessories which can be used to provide added security, better manage your hot water usage, or simply improve the aesthetics of your heating system.
Storage systems will start at around $500, but for a continuous flow system expect to pay at least $1000. Solar systems will not likely be less than $2000.
Bosch hot water systems
Bosch makes a variety of electric and heat pump storage systems, but what really sets Bosch apart from the competitors are its gas powered continuous flow systems which rely on its "Optiflow" technology.
According to Bosch these Optiflow systems are the most responsive continuous flow systems, and they also have the added convenience of Bluetooth connectivity so that you can use your phone to access your usage data as well as adjust the temperature. Optiflow systems start at about $800.
Dux hot water systems
Dux has a very large range of water heating products, including electric, gas, and solar storage systems, along with gas continuous flow systems. Dux also has a particularly wide range of tank sizes for storage systems (anywhere from 25L to 400L).
Also Dux's continuous flow systems have a very high energy efficiency rating, generally higher when compared to similar models from other brands. A small storage system from Dux should cost at least $350, and continuous flow systems generally start at around $800. A solar system on the other hand will likely cost at least $2000.
AquaMax hot water systems
Aquamax makes both electric and gas storage systems as well as gas continuous flow systems.
They also make a range of premium stainless steel storage tanks which according to them are lighter, easier to maintain, and more energy efficient than standard model tanks.
The smaller storage systems start at around $400, but their continuous flow systems tend to be more on the pricey side starting at around $1200.
Ways of saving on your hot water expenses
Because hot water is a necessity for your household, it is unfortunately an inevitable expense that can't be avoided entirely. However, it is possible to take measure that can minimise the impact that your hot water has on your household's energy bill.
If you rely on an electric storage system as most households do, the easiest way to save money is to rely on off-peak energy.
Basically how this works is you set up your heating system to heat your water overnight when electricity rates are much lower.
Just remember that for this to work you need to have a tank large enough to keep you going throughout the day without having to reheat during the more expensive, peak period.
This system is sometimes called a dedicated circuit or two-rate tariff, and generally your hot water system will be metered separately from the rest of your household electricity usage.
In most cases retailers will automatically install your heating system with a dedicated meter, meaning you more than likely are already on a controlled load tariff.
However if you do not already have this sort of setup for whatever reason, then making the switch could end up saving you a lot of money in the long run.